Come along for my day at Disneyland!
As a fairly new person to Disney- this trip was learning all about the tricks to make sure we could have the best day possible! Disney can require lots of planning and having all it all lined up- So I made this post for you guys from everything I learned!
First most important tip- BRING A PORTABLE CHARGER. I have this one (affiliate) https://amzn.to/2TgoIxW
I forgot mine and my phone only lasted till 2pm. Missing out on hours of fun and pics! (Thank goodness for friends)
First thing- Getting into the Rise of Resistance Ride! It was nerve wrecking to park, shuttle, and stand in line to make sure we were check in before 8am- but we did it!
My friend had linked all our tickets before we even got in line- so as soon as we were all scanned- we could wait for 8am on the DOT to get a boarding group.
You see- with the Rise of the Resistance being so popular- there are no fast passes. You have to get your pass scanned- and THEN wait till 8 am and then get a boarding group!
Here is how to quickly get a boarding group:
Link all your parties passes
As soon as you enter Disney's Hollywood Studios, open My Disney Experience and go to: "Star Wars: Rise of the Resistance – Access by Boarding Group." (This is available after the official park opening time, so if you try it before it won't work).
Click on "Find Out More." You will then see the boarding status of Star Wars: Rise of the Resistance and if boarding groups are still available.
If boarding groups are available, tap the "Join Boarding Group" button.
You will then be given a boarding group number. When your number is called, proceed to the entrance of Rise of the Resistance.
Tip- Make sure to turn wifi OFF. It will slow down your connection and you'll get a lag- leading to a high boarding group= longer wait!
We got group 16 (out of 140) so we decided to sneak into the single rider Space Mountain and then head to Star Wars.
Did you know that there was a single rider for Space Mountain? It a separate line- hidden by the bathrooms past the gift shop, The Star Trader. We beat a 45 minute line- and got in 10 minutes!
Walking into Galaxy's Edge- it truly feels like you've been transported to the Start Wars world.
The boarding group load in groups of ten- with a 2 hour window for you to come to the ride. Since we were group 16- we got on around 9am with the boarding group 10-22.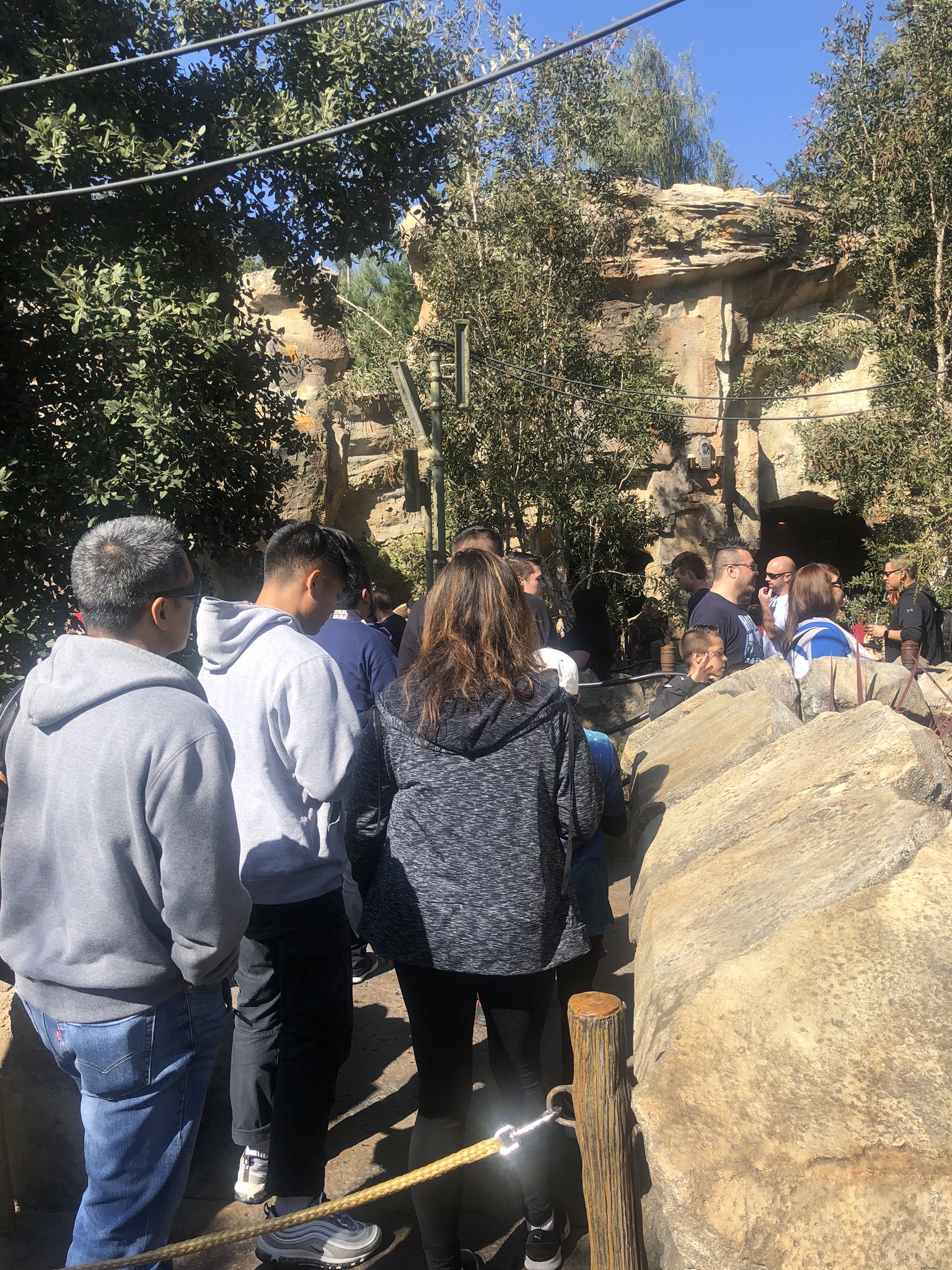 While you wait to start the ride- Disney has done a fantastic job of creating a wonderful environment of fun. There are tons of little details that keep you engaged- such as maps, waterfalls, and holograms- so the wait goes by so quickly!
You really feel as if you're underground in a cave- they have paid such close attention to details!
After watching Rey- you get to go outside and are loaded into the shuttle for transport!
I was a bit worried about "flying' since its stand room only- but it is nothing too rough!
But Oh no! The Shuttle get captured by First Order Star Destroyer! The shuttle doors open to this breath taking scene!
You then get sorted into groups by color and get carted off the room. Hats off to the cast members because they stay so in character!
We were carted off to a tiny room- and thats when I got worried we would be crushed by the walls! Especially since Kylo Ren appeared!
But Whew! He gets called off to the bay- and we get saved! By the coolest lightsaber trick I've ever scene!
The colors you were sorted into- thats your seating assignment!
GUYS I CANT EXPRESS HOW FREAKIN COOL THIS RIDE IS!!!!! Seriously!! I want to ride it a million times!! There's shooting! Theres drops! There's flying! There's John Boygeta! You go forwards, backwards, Up, down and to the side! It keeps you totally engaged and thrilled!
It was so worth getting up at 5am!!!
Full disclosure: I have only seen the first Star Wars movie, so I honestly didn't know a whole lot about it. But this ride blew me away! It was so fun and engaging- even if you aren't a huge Star Wars fan- I would SO recommend it!
What tips and tricks have you found about Disney? What do you want to know about next? Leave a comment below!